Click On The Photos For Their YouTube or
MySpace Pages if available!!
They Are Not In Any Specific Order
So Don't Think You Are Not Loved
If Your Pic Is Last!!!
If You Don't See Your Pic
We Are Either New Friends Or
Still Under Construction =)
My Wife Roberta (My True Love, My SoulMate and My Best Friend Through It All!!! I Love You So Much Angel!!)
Jonathan aka Crimnos (A True Brother And Friend- Jon, I have known you for a long time but it feels like many years.. we have been through so much and I thank God for us being Brothers!! I Love You Man!!)
Jon "236lbsnomore" Boynton (Another True Brother, Friend and Documentary Director! One day we will tour together and help change the world, 1 person at a time. God Bless You Jon!)
Mandy aka Selena4Evero4 (Mandy, her Hubby, Daughters, Marina, Mina, Miya and Son, RJ aka Shiner! heehee!! You Guys are Awesome and I Love You All!!)
TJ also on www.tjsjourney.com (You Are A Huge Inspiration TJ and I Love You and The Entire Family!)
Peggy And Soloman (TJ's Mother and Step Father(Father IMO) (Wonderful Friends and Another Example Of True Love - God Bless You Guys!!!)
BethAnn (TJ's Sister And A Great Person)
Rachel Aka PurpleRose (A Great Friend And Support- Thank You For Always Being There And I Pray For Your Success In Health and Happiness!)
Alex aka BillyJulio (My Homie Pringles- I Love You A-Hole lol hehehe)
Steph, Randy and Baby Trent (Wonderful Friends Who Are A Great Example Of A Family- In These Times We Are Lucky To Have True Friends And No Matter Where Our Paths Go.. We Will Always Be Friends!!)
Stephanie and Evan (A Great Friend And A Great Mommy!.. We Love You Guys And Are Happy To Have You In Our Lives!!)
Upcoming Music Artist and Personal Friend: Amber Lane - Amber I Have Known You For Over 9 Years and I Am Looking Forward To Seeing You Have Much Success In All Your Hard Work!! I Will Always Be Here For You!)
Smerdley ( One Of The Funniest And Most Original YouTubers Who I Call Friend- Smerdley.. I may never meet you But I will NEVER Forget You and You Can Put That In Your Pipe And Smoke It LoL)
Genevieve aka Miss Krispy ( A True Friend And Support- I Am Happy To Know You And Have Seen Your Success!! God Bless You And I Will Always Be Your Friend!!)
Jess aka Jesmalu (A True Friend Who I Am Proud To Call Friend- Jess, You Are An Amazing Person And I Know You Are Very Strong And Will Overcome Any Obstacle In Your Way And Soon Find Peace And Happiness! )
Jason aka Jovian (Another True Friend and Brother- Thank You For Our Long Talks And Boy Are They Great.. You Are An Amazing Person And I Am Proud To Call You Brother =D )
Tonya (A Great Friend And Support! - Tonya I Am So Proud Of All That You Have Overcome!! God Bless You And Stay Strong!!)
Shauna ( A Great Friend Who Is Now Winning Her Battle With Obesity!- Shauna Stay Strong And I Will Always Be Your Friend!!)
KingHuman (A Great Friend And YouTuber Who Gives Away Stuff For Good Deeds In Return! Go Subscribe To Him- Thank You For Everything King!!!)
Tony aka ShrinkingTonyG1980 (A New Friend And Brother- Tony I Am Rooting For You And Proud To Hear Everytime You Have Success And When You Fall I Will Always Be A Friend Who Helps You Get Back Up!)
Upcoming Music Star And Personal Friend: Ken Tucker- Ken I Have Recently Had The Pleasure To Meet You And We Have Become Very Good Friends And I Cannot Wait To Meet You And Hear Your Awesome Gift Live!!)
Kristina aka Krylee (A Great Friend!- God Bless You And Your Family And Thank You For Always Being A Good Friend!!!)
Julie and The Beaver lol (A Very Sweet Friend Who Through A Gracious Gift, Introduced Me To Audio Bible!!)
Stephanie,Robert and little Autumn (Another Great Family and Friends!- We Love You Guys!!)
Actor Doug Jones *Abe Sapien,Pan,Silver Surfer* (Yes I have spoken to him in email quite a few times!)
Tina (A Great Friend!- We Love You Tina!)
Nicole and Jo Marie aka JoMomma ( 2 Great People I Call Friends =D - Thank You So Much For Everything And For Being You =D )
Upcoming Music Star and Friend: TruLaLa - We Are New Friends But You Have An Amazing Voice From God And Always Use It!!)
Leigh Ann Towne of WTRF (local news)
Shalem and Lisa (2 Good Friends)
Amy LH Williams (A Great Lady And Friend Who Has Overcome Her Battle With Obesity!- God Bless You And Ken And I Hope We Can Get In Contact Again Soon!!)
Kelsi (A Sweet Friend Who I Pray A Great Future For!)
Heather and Ben( A Great Duo And Friends! - Thank You Heather For Always Being There And Being A Great Person!)
Gina (My Physical Therapist)- Thank you Gina for not only working with me so I can walk again but also bringing Christ into my life stronger than before.
Dr. Muscarella (My Surgeon)- Thank You for taking me as a patient when the others could not and Thank you for saving my life and always making sure I was well cared for!!!!
Christina and Dave (cousins) After a 10 year hiatus we have finally become a family again and I look forward to a strong relationship from now on!!
Connor(left),Lauren(top middle),Avree(bottom middle),Evan(right)-(cousins)- I Love You Guys. Don't Grow Up To Fast!!
Bobby (friend)- Thank You For The Visits and Many Gifts During My Nursing Home Stay and For The Friendship I'll Always Cherish.
My friend Ian who I met in Art College before my surgery. A good guy and a talented artist. Go check out his site! (here he is wearing his Jack Sparrow costume. One of Many costumes he has worn that he put together himself.)
Uncle Charlie and Aunt Pat- We Love You!!!
Cousin Chuckie holding a prized catch!
Roberta's Cousin Tommy- A Cool Guy and a WoW Freak haha
Pastor Dick and his wife Ina- Thank you Dick for bringing Christ back into my life Full Force and giving me the hope to move on and Help People through Christ. Thank you Ina for your prayers and you both for being dear friends.
Roberta's Uncle Don and Aunt Margaret- We Love You!!
Pam (Roberta's Mommy) and Charlotte (Roberta's Aunt)- Mom we both love you very much!!!- Charlotte- We Love You!!
This is a great friend from Youtube FalcoVolt. We have recently become a lot closer as friends and he is a great person with A LOT of heart. His views on things can be some very creative and wonderful things because of his Imagination ways of life. On my Youtube Friends page I will post his alternate Account(InnovatingMotivation) and post his video on Imagination. Great Friend, Great Person. God Bless you brother!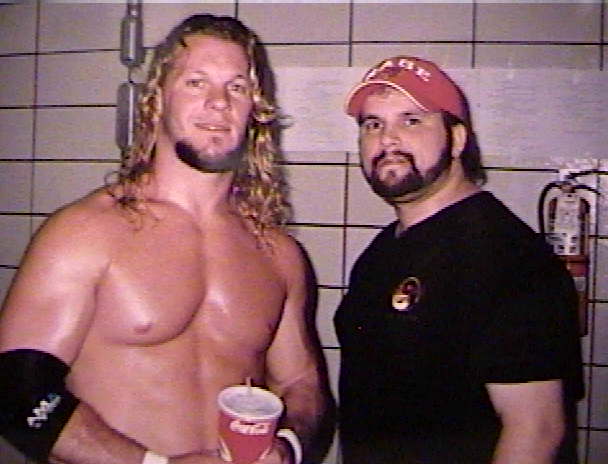 This is my friend Ron. You seen him on the intro page for my .com site. He is known on Youtube as RowdyRonster and this man is Mulitalented with a captial M. As you can see in this picture, he is standing with one of my favorite wrestlers Chris Jericho. What's so cool about this? I will tell you! Ron himself was a wrestler! yes just like Jericho. Ron started back the 80's as a DJ, his skills got him into wrestling where he learned every bit of the trade. By 1999 he was called to OVW (Ohio Valley Wrestling) which is the "Farm Federation" for WWE. He has worked with and gone toe to toe with some of the biggest names in wrestling. He now works on his comedy and will soon be featured doing Improv. He does Voice over work and can do some Great impressions. Thanks for your friendship Ron and God Bless you with all your endeavours.
N
Nick- We Just Met But You Are Pretty Cool In My Book!!
Jesse- We Also Have Just Met But I Pray For You And Hope You Find Better Health And A Great Future!)
Percy Pringle aka "Paul Bearer"